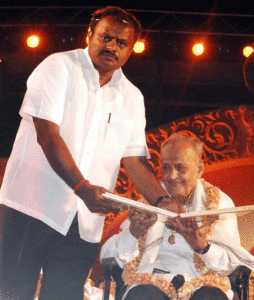 Sri B.V. Kakkilaya was honoured by the Chief Minister of Karnataka, Sri H.D. Kumaraswamy with the Suvarna Karnataka Ekikarana Award on the occasion of the inauguration of the Golden Jubilee Celebrations of the formation of unified Karnataka State on November 1, 2006 at a glittering function held at Chinnaswamy Stadium, Bangalore. Sri B.V. Kakkilaya received this honour in recognition of his immense contribution to the unification of Karnataka as the General Secretary of the Akhanda Karnataka Rajya Nirmana Parishat. He was also a member of the Rajya Sabha during the unification movement in the 1950s and had raised the issue of unification of Karnataka in the Rajya Sabha and several other forums during that period.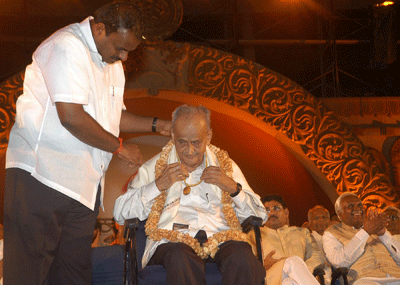 The award included a citation, a gold medal (Photo below) and a shawl.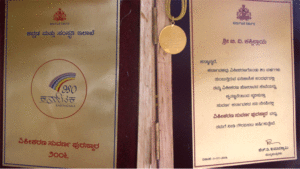 Karnataka Samithi of Kasaragod was also honoured with the Suvarna Karnataka Ekikarana Award for the glorious struggle of the Kannadigas of Kasaragod. The award was received by Sri Vishnu Kakkilaya, President of Karnataka Samithi.
Sri Alavandi Shivamurthy Swamy, the President of the Akhanda Karnataka Rajya Nirmana Parishat and a member of the Loka Sabha during the period, was also honoured on the occasion.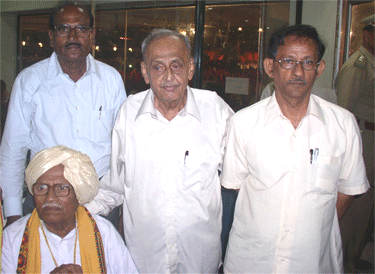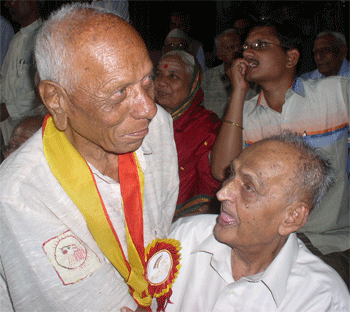 Earlier in the day, Sri B.V. Kakkilaya and five other stalwarts chosen for the Ekikarana award were felicitated on behalf of M.S Krishnan Memorial Trust, Bangalore and Navakarnataka Publications, Bangalore.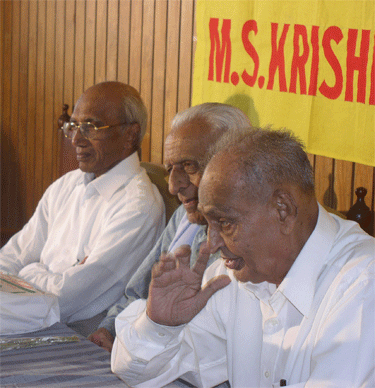 Speaking on the occasion, Sri Kakkilaya recalled the glorious struggle for unification of Karnataka, against the designs of the erstwhile government and the Kings and rulers of the area. He pleaded that the unity of the state should not be compromised over trivial issues and the language should be the binding spirit for realisation of true democracy.