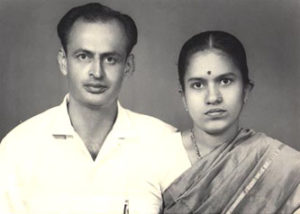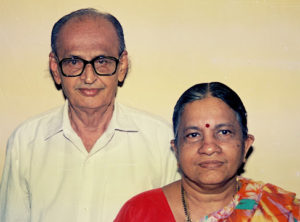 Born on 11th April 1919, Vishnu Kakkilaya was the youngest son of Vishnu Kakkilaya and Gangamma. Strangely, he was given the same name as his father's. His father died when the young Vishnu was only 3 years of age. He grew up under the loving care of his mother, supported by his eldest brother, Subraya Kakkilaya. He had his early education in Kasaragod and then joined St. Aloysius college in Mangalore where he did his graduation in chemistry. He joined the freedom struggle when he was a student, was arrested and imprisoned in 1942 during the Quit India movement. He joined the CPI and was jailed several times. He was a member of the Rajya Sabha between 1952 and 1954 and of the Karnataka Legislative Assembly between 1972 and 1983. He has written several books and has won several awards for his literary works, including the Kannda Sahithya Academy award. He passed away on June 4, 2012.
His wife Ahalya, was the youngest daughter of Sri Narayana Somayaji, a freedom fighter. She was a dedicated housewife and mother to her four sons – Srinivasa, Venkatakrishna, Harisha and Suryanarayana. She passed away on 21 June, 1998.
Dr. B. Srinivas Kakkilaya and Dr. Balasaraswathy
Srinivas is the eldest son of Vishnu Kakkilaya and Ahalya. He passed his MBBS from Kasturba Medical College, Mangalore in 1988 and then his MD in Medicine from Karnatak Medical College, Hubli in 1992. He is a practicing Physician in Mangalore. His wife Dr. Balasaraswathy is dermatologist, who did her MBBS from Karnatak Medical College, Hubli in 1992, Diploma in Skin and STD from K.M.C., Mangalore in 1996 and DNB from PSG Institute of Medical Science and Research, Coimbatore in 2000. They have a son, Akshaya, who is an engineer in Computer Sciences.
Dr. Venkatakrishna Kakkilaya and Hemavathy
Venkatakrishna Kakkilaya is a paediatrician. He did his MBBS from Karnatak Medical College, Hubli (1991) and his DCH from V.N. Medical College, Sholapur in 1993. He passed his MRC Paediatrics in 1997. He now works at Parkland Hospital, Dallas, USA. His wife Hemavathy is a Civil Engineer who studied in K.R.E.C. 9now NIT-K), Surathkal. They have a son, Akash and a daughter, Apoorva.
Dr. Harish Kakkilaya and Dr. Harshila
Harish Kakkilaya is a surgeon now working at Philadelphia, US. He passed his MBBS from Mysore Medical College and then his MS in general surgery from TN Medical College, Bombay. He passed his FRCS in 1998. He is married to Dr. Harshila, a speacialist paediatrician, who did her MBBS at Pune Medical College and then her MRCP in paediatrics. The couple have a son, Rohan and a daughter, Ananya.
Dr. Suryanarayana Kakkilaya and Padmarekha
Suryanarayana is a consultant in Psychiatry at Liverpool, UK. He completed his MBBS from Mysore Medical College and MRCPsych from UK. He is fondly called Babu. He is married to Padmarekha, a fashion designer by training. The couple have two sons, Tarun and Pranav.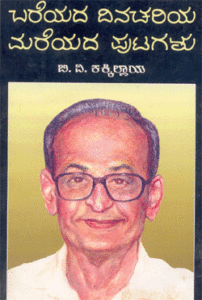 B.V. Kakkilaya's Autobiography 'Bareyada Dinachariya Mareyda Putagalu' is published by Navakarnataka Publications [See Review]
More about BV Kakkilaya